Cowboy boots were born of necessity in the Old West. Round toes, higher shafts and riding heels meant comfort and protection for long days on the frontier. Style was simple: black with sparse stitching. Since the 1920's, advanced stitching has given western boots personalized craftsmanship style along with their trademark comfort and performance.
"Today, the vast majority of cowboy boots sold around the world never come in contact with a stirrup. With lower tops and lower heels, these boots are made for walking. But they have taken on another, equally important role in modern life. They are a personal statement made public—a leather canvas for artistic and cultural expression." – G. Daniel Deweese, True West Magazine
Western boots today go beyond the frontier. Prized by working troubadours and city folk, they offer hybrid benefits of practicality, sturdiness and style. Ariat boots are innovative and performance driven, meeting demands of professional riders and rough stock workers while offering casual style for everyday living. So, if boots are your personal statement, what does your footwear say about you?
The Ariat Crocodile Print Workhog Boot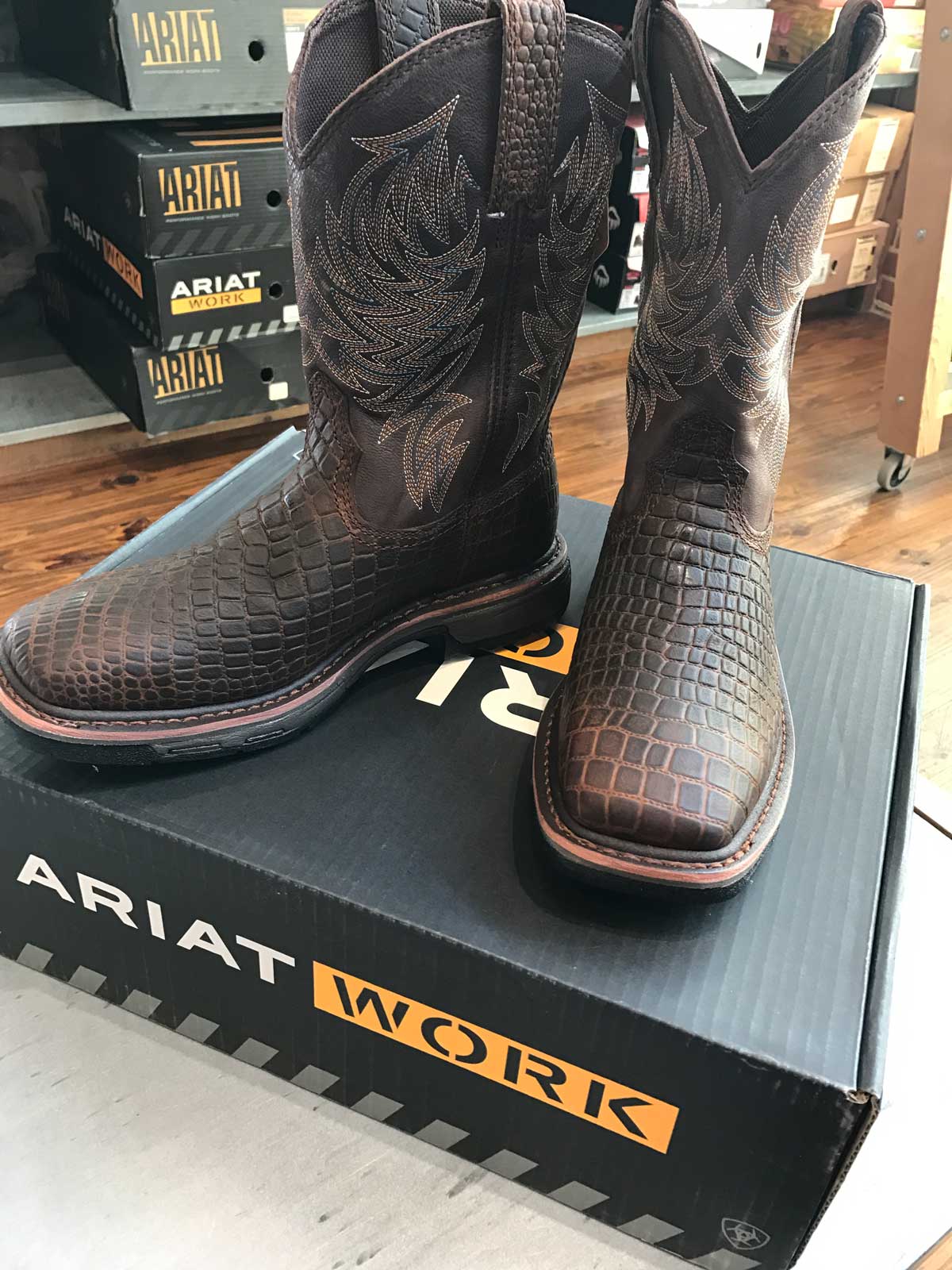 Steady, loyal, and hard-working, you're from sturdy stack. A salt-of-the-earth man, happy with ice cold brew, a good woman, steak and potatoes – you take on the hard tasks and you don't stop until the sun goes down. The Ariat Crocodile mirrors your commitment to simple, quality living. This work boot offers slip and oil resistance, with a self-cleaning outsole. These versatile boots work with you day and night – whether you're out in the field or on the dance floor, you'll never need to worry about your feet slowing you down.
The Ariat Branding Iron Blue Boot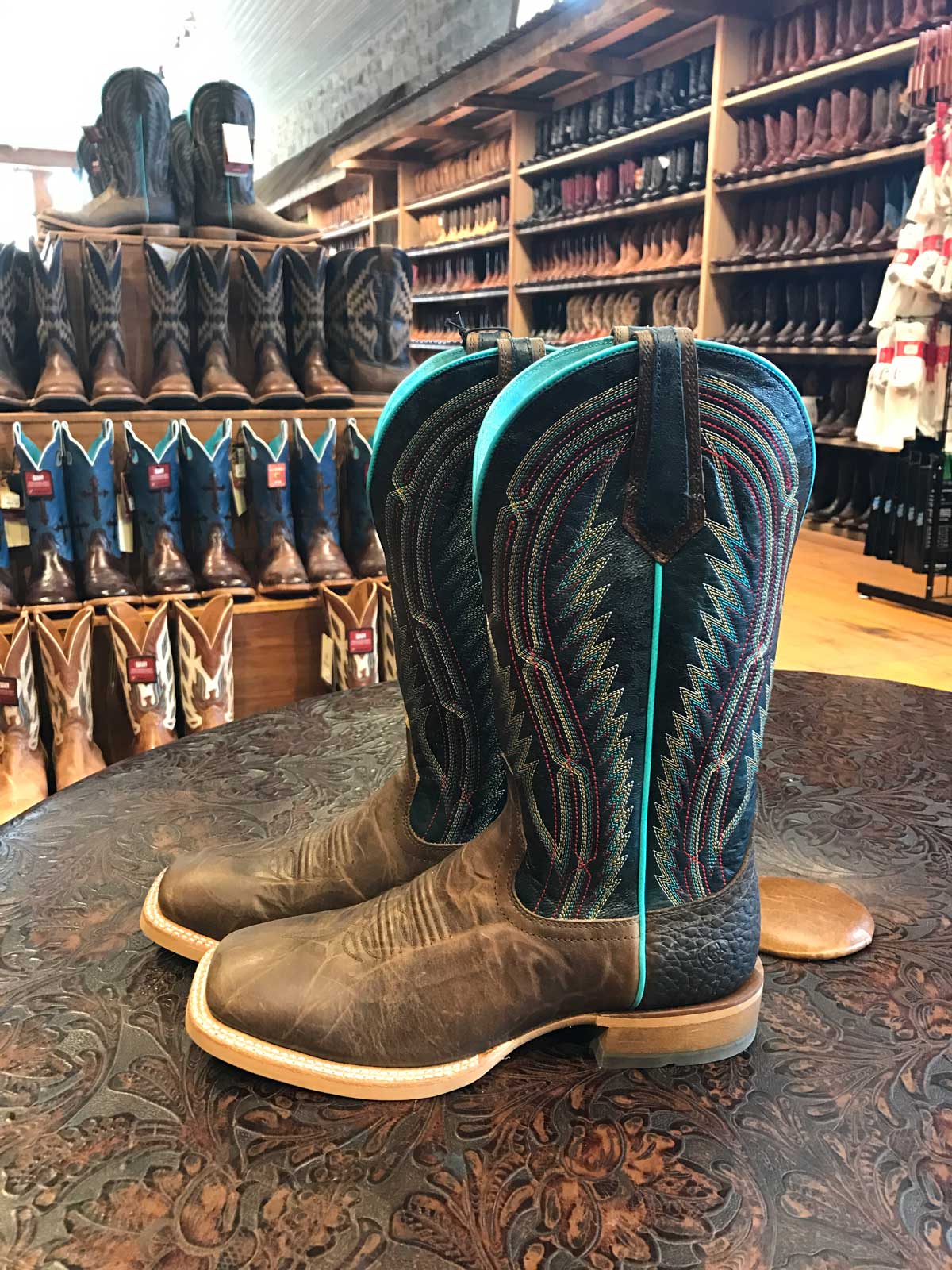 You're a classic gentleman, straightforward with understated confidence and style. You appreciate quality, luxury and creature comfort, but you'll get your hands dirty with the best of 'em. You have wit and personality in spades. These stylish Ariats are made from full-grain, mildly distressed leather. The brand's exclusive ATS Pro Comfort Technology system stabilizes you while moisture wicking and gel layers keep your feet cool, dry, and comfortable. These boots impress whether you're lounging with cigars and brandy, heading to a wedding, or out in the country.
The Ariat Brown and Blue Sport Outrider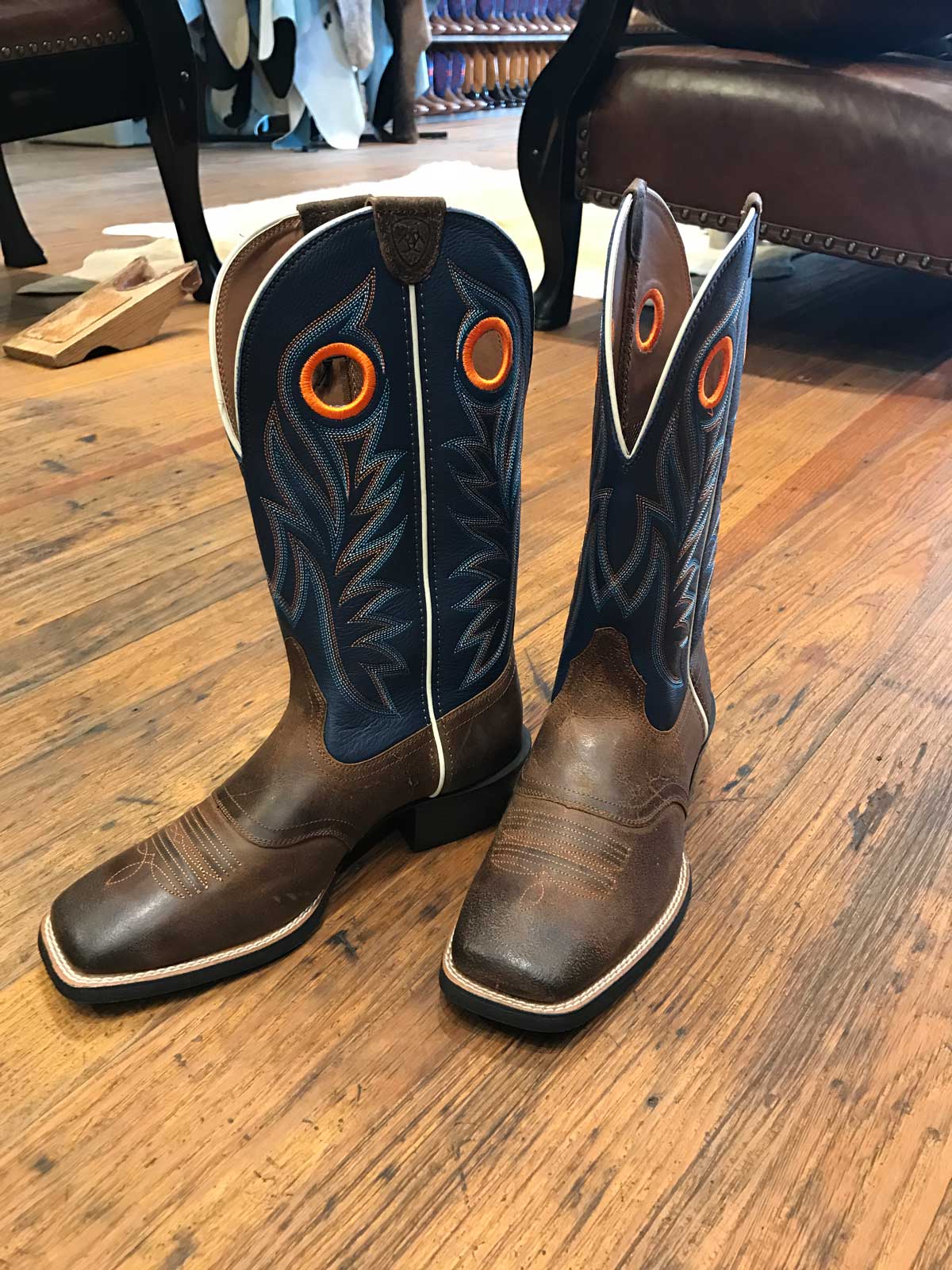 You're a showman with strong ethic, flowing charisma and a natural ability to captivate. You ride with style and ease – making long hours of riding look effortless. A jack of all trades who mixes luxury with practicality to succeed. These Ariat boots offer full-grain leather and innovative performance features like the Ariat 4LR comfort cushion technology for the full-time rider. These boots are unique, just like you.