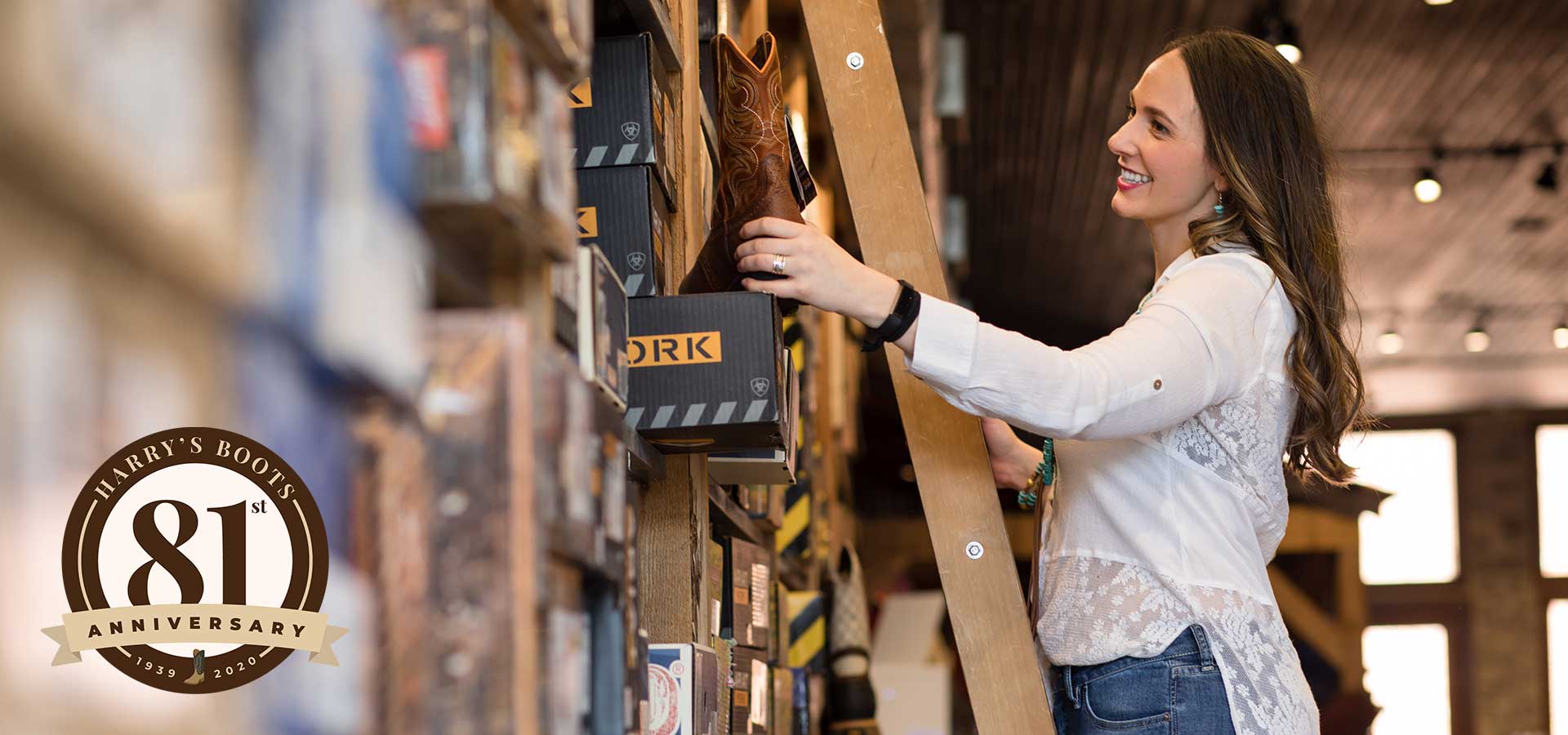 We are all familiar with that list of things you always wanted to do but never get around to doing. So here I am … doing a blog write up for the store. My name is Karoline, and I have been here managing, buying, and decorating the store for seven years now. My parents, Ken and Kynda bought the store back in 2008, and I am happy to be here carrying on this Texas tradition as we celebrate 81 years of Harry's Boots!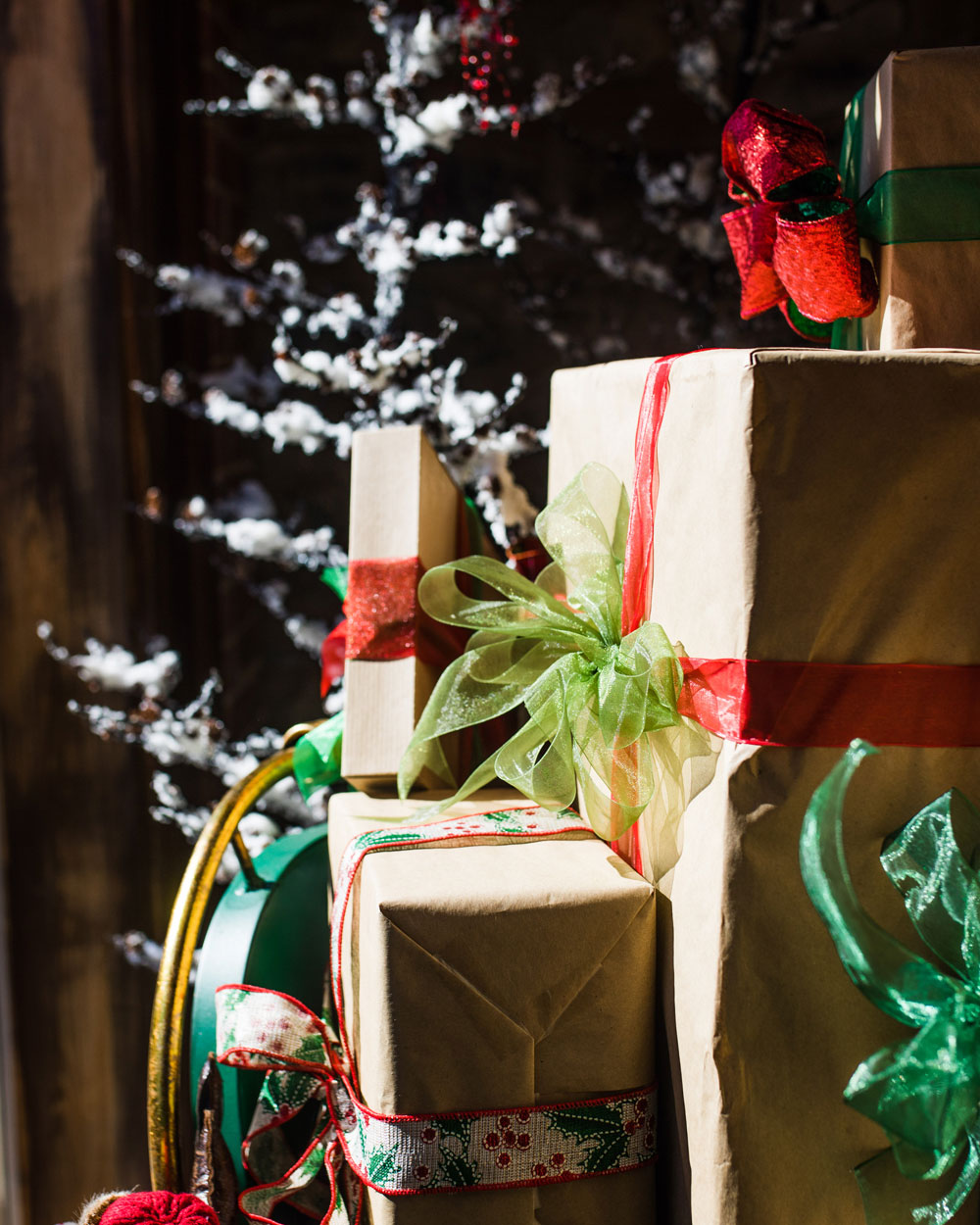 This is my favorite time of year with the hustle and bustle of shoppers in the store trying to find the perfect gift for their loved one. There is nothing like the day after Thanksgiving opening the store doors and checking out our first customer to wish them a "Merry Christmas" and thank them for their purchase.
We begin our preparation for the Christmas season in January when my mother and I head to market in Dallas to plan out the decor design for the next year. I visit my gift vendors showrooms and select all of the fun stocking stuffer items, or little nick nack gifts to give all year long. The items and ornaments may not show up till months later, so by the time they arrive in the store, it's like opening our very own Christmas gifts all over again.
Beginning in September, I begin pre-making the bows for your Christmas presents so that wrapping is fast and easy for us here in the store. You can bet that bow on your Harry's present was made on my couch with "It's A Wonderful Life" playing on repeat. As Halloween comes and goes, we immediately begin decorating the store for Christmas.
I know some folks think this is too early, and we've skipped Thanksgiving all together, but if you had five buildings to decorate you might reconsider. This really is the most wonderful time of the year decking the halls in the store. The best part is driving through town in the evenings and seeing cars pulled over and enjoying all of our hard work made in our window displays. There is something so magical about seeing children's faces light up to Santa in the window and of course all the twinkling lights. By the weeks end of decorating every tree and hanging all the garland, it's so much fun to stand back next to my mom and feel the magic of our own creation.
You know it truly is a wonderful life that you are living, no matter the trials you are currently facing. If you haven't seen the Frank Capra movie, "It's a Wonderful Life" I encourage you to sit down this Christmas season and enjoy it with your family. It might not be a good 'ol western film, but I guarantee you it will warm the soul. 2020 genuinely stinks, and this year more than ever, it is important that we remind others how special they are to us. We are all so busy living our lives and going through one of the strangest years ever that it has been hard to see the light at the end of the tunnel. That's how George Bailey felt in "It's a Wonderful Life" as he lost sight of what was truly important and how many amazing things he had done in his wonderful life for so many others.
In the wonderful retail life of Harry's Boots, I can say we are very blessed and extremely thankful to have amazing customers from all over to continue to walk through our doors and shop our buildings. The Harry's Boots tradition lives on and will continue to live on for many generations to come. My dream is for many years from now you will remember walking into the store, the smell of leather hitting your nose, and playing with the toys as you bring your own children and grandchildren in to make those very same memories you did once as a child.
I pray that on Christmas morning whether you are opening a homemade gift or a pair of boots that you enjoy each moment as you are surrounded by your loved ones. This season gather with thankful hearts and joyful praises for this year really put us through the ringer and we deserve all the joy this wonderful life has to offer. We hope to see you come back to shop with us in the new year and that your wonderful life leads you down many great roads. Ideally I can continue with a monthly write up to update you on things happening at Harry's Boots, my personal journey through life and maybe some other nonsense to bring you entertainment. Sending you all good tidings and positive vibes from San Saba, Texas. May you and your family have a very Merry Christmas!