Harry's Boots 80th Anniversary
Customer Appreciation Event
You read that right – it's been 80 years since Harry's Boots was founded in our small town of San Saba, and it's been growing ever since!
We're proud to be members of this lovely community of ours, and we know we wouldn't be here today without the support of our loyal customers, friends & family! Beyond thankful for all of our customers that take the time to visit us and we want to show our appreciation.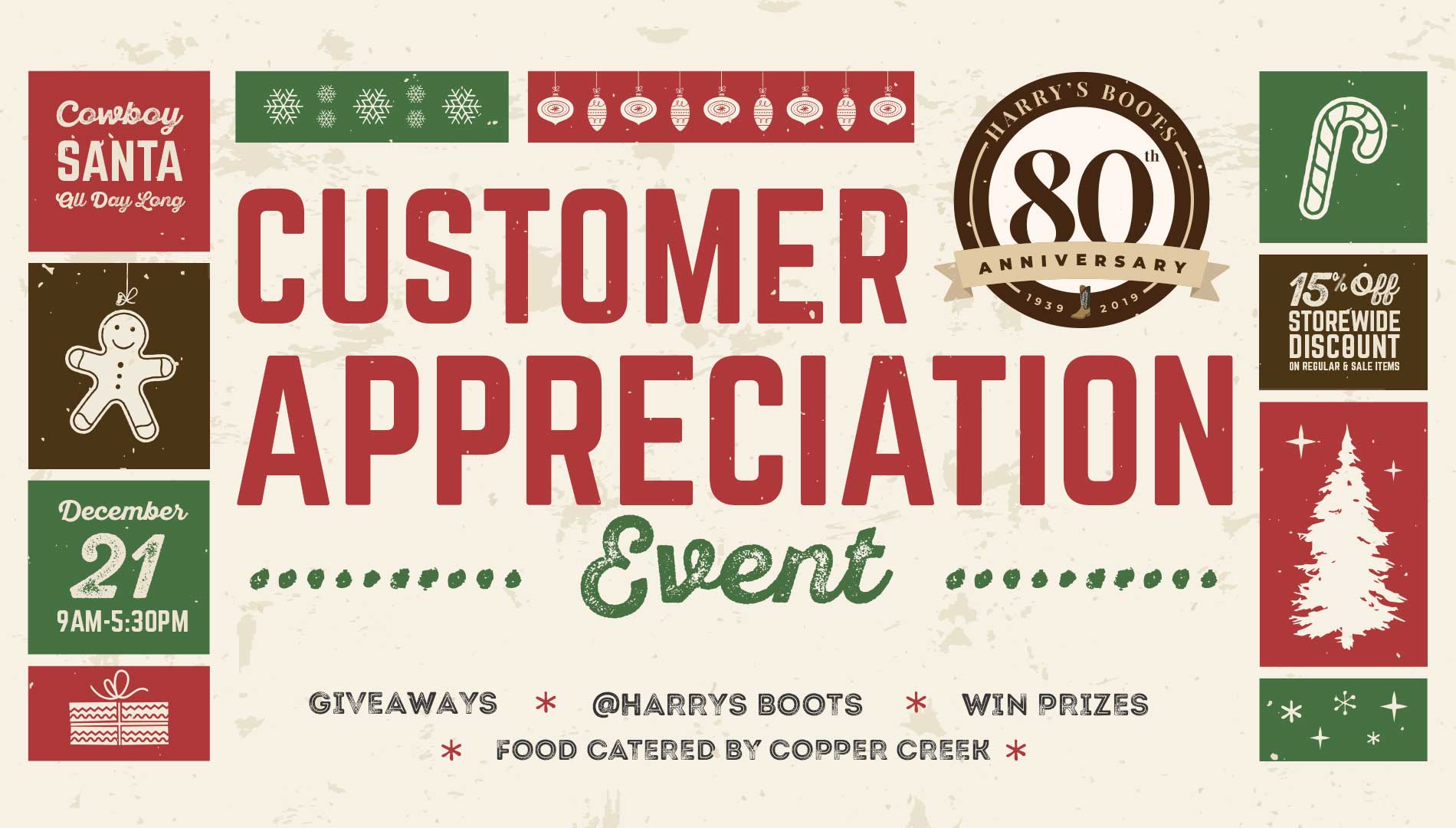 All-day discounts, giveaways & more
On Saturday, December 21st, you will get a chance to buy anything in the store at 15% OFF!
Update your wardrobe and finish your holiday shopping just in time for Christmas!
And if you're feeling lucky – you might just win one of our giveaway prizes as well! When you come in to celebrate with us, you'll get a ticket to place your name in the pot for your favorite prize.
For more chances to win, you'll get additional tickets for every $100 you spend.
A Few Giveaway Prizes
Twisted X Footwear – Men & Women
Rodeo King Felt Hat
Cinch Jeans
Kimes Ranch Jeans
Stetson Jeans for Women
Corral Boots
Justin Full Quill Ostrich
Cowboy Santa is Coming!
That's right! Due to popular demand from our guests that celebrated with us last year, Cowboy Santa will be joining us for the entire day! So bring along your little ones, snap some adorable pics, and enjoy the festivities together!
We will have local photographer Paige Faught taking pictures free of charge, and you will be able to download the images from our social media after the event!
The party will be catered by Copper Creek, so come hungry for some delicious snacks and treats!
Save the Date and get updates on our Facebook Event Page HERE