San Saba is a small town with a BIG heart.
For all y'all city folks out there, we want to introduce you to our hometown, San Saba, TX. It's a two-traffic-light town in the hill country, where everyone knows each other by name.
San Saba has the warmest smiles and pecans for miles. It's a wonderful place to call home, and the perfect getaway from the chaos of city life. If you need to slow down and take a breather, our quaint little town will welcome you with open arms.
Harry's Boots takes up 5 buildings of historic downtown San Saba, and we're proud to be neighbors with some of the best people and businesses the Lone Star State has to offer. From sprawling pecan groves to world-class wineries, San Saba boasts the finest in lodging, food, nature and more!
So, don't be a stranger and come visit us sometime. The lovely sights, smells and sounds of small town San Saba await you!
Outdoor Gems In San Saba, TX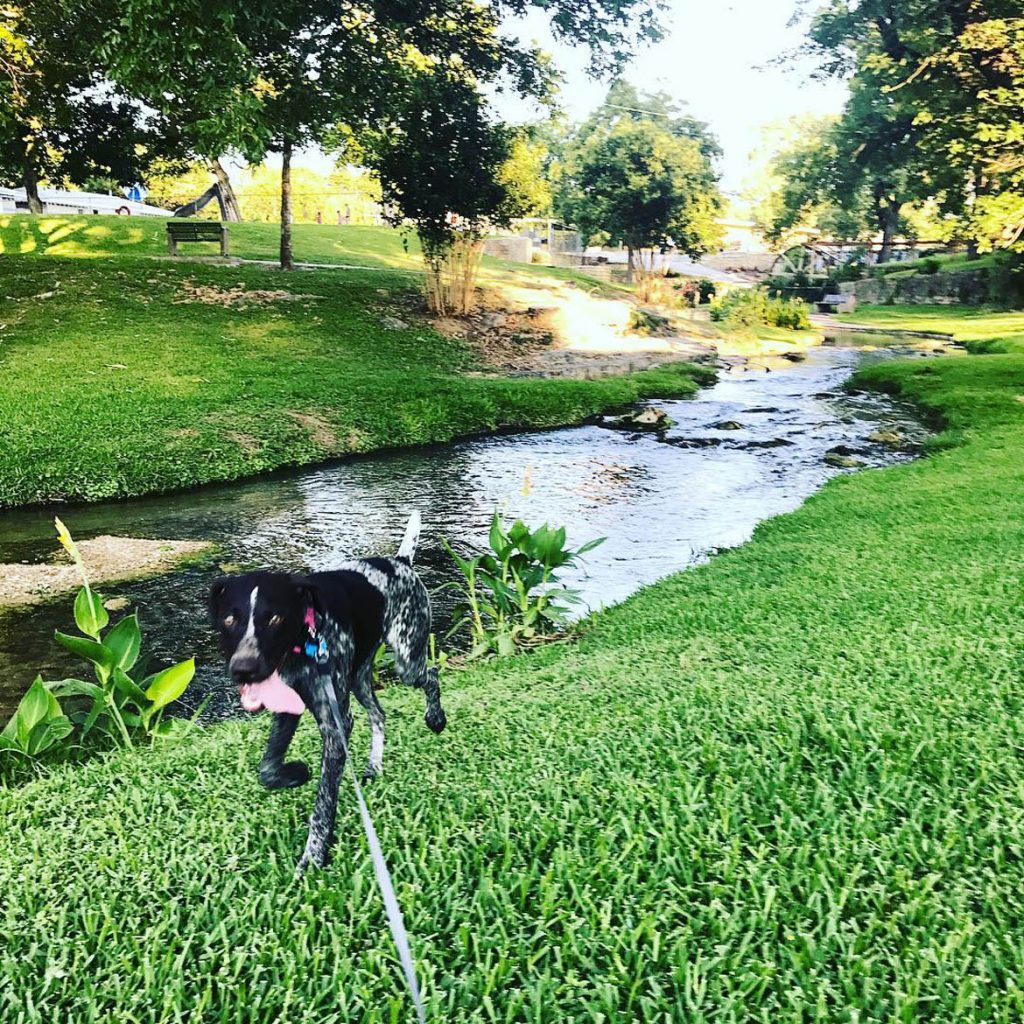 Mill Pond Park
This is Jolene's pick for favorite spot in San Saba. Just look at the expression of pure joy on her face in the picture above. This lovely park dates back 143 years, and to this day, most of the dam and original water wheel still stand, and provides water to the town.
Mill Pond Park surrounds a spring-fed lake with cascading waterfall. The scenic 71 acres are populated by native flora, ducks and geese. The lake's winding tributaries bubble past picnic areas and nature trails. The grounds include a playground, swimming pool, baseball fields and more. For gatherings out amongst nature, there's no better place than under the Mill Pond Gazebo. The whole park is pristine, and part of what makes San Saba perfect for outdoor-lovers.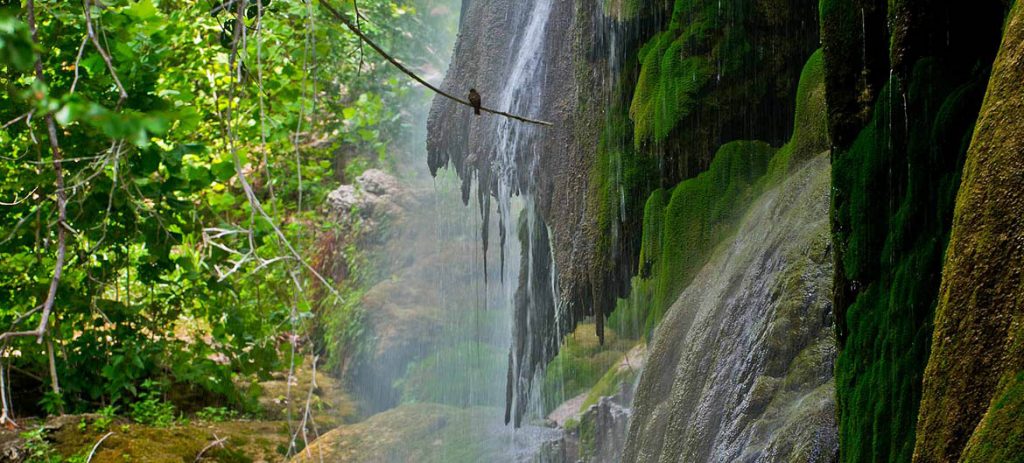 Colorado Bend State Park
For the true adventure lover, Colorado Bend State Park is just up the road from San Saba. The unspoiled wilderness of this state park is a sight to behold. Take a 3 mile round trip hike to the natural wonder that is Gorman Falls (as shown in the image above), go spelunking in caves with a guided tour through underground caverns, or enjoy a calm day fishing on the Colorado river. San Saba is truly surrounded by some of the most beautiful land on Earth.
The Most Charming San Saba Place to Stay
Dofflemyer Hotel
Our favorite little boutique hotel has all the class of the big-city, with the authenticity of small town living. Located along with Harry's Boots, in historic downtown San Saba, the building that houses the hotel was built in 1913. With 6 luxurious bedrooms, the Dofflemyer Hotel is cozy and welcoming to all who enter. Each room is unique and decorated differently. The whole vibe of the place is a mixture of old and new. Hotel Dofflemyer truly encapsulates the rich history of San Saba, while also offering a high-end, contemporary experience.
Top Pecan Stops in San Saba
Alamo Pecan & Coffee Co.
San Saba is the Pecan Capital of the World. So, you can bet there are some wonderful places to get the world's best pecan treats and eats. One of our favorite pecan stops is Alamo Pecan and Coffee. You can sit back a sip on some pecan flavored coffee at their full service coffee bar, or help yourself to samples of pecan preserves, fudge, and candied pecans. And, their custom gift baskets are a sight to behold! Alamo Pecan and Coffee storefront is a little slice of heaven here in San Saba.
Great San Saba River Pecan Company
Tucked beneath 350 acres of pecan trees, lies the San Saba River Pecan Company, half a mile west of town. They are renown across the country for their award winning pecan preserves. Their county store is a treat-filled showroom of their best and brightest products, made from pecans just outside their door. It's best not to go there hungry, because you'll want to buy up every delicious thing in sight!
The Best San Saba Places to Eat
Youngs Burritos and BBQ
You can't visit a small town in Texas and NOT try some barbeque. Here in San Saba, the resident Barbeque king is Youngs Burritos and BBQ. It's traditional Texas BBQ with a Tex-Mex twist. Their mesquite style barbeque is a true taste of the hill country. Youngs is still young compared to most Barbeque joints, having only been around for 3 years, but it has swiftly become a staple of San Saba dining. Like San Saba itself, Youngs is a mix of traditional and modern, with homemade dishes and exotic culinary delights.
Diggs Restaurant & Club
For the real Hill Country nightlife experience, head on over to Diggs. Their food is rich, spicy Texas goodness in an authentic country setting. There's always something going on at Diggs, from karaoke to two-steppin. Shoot some pool with the locals and have a laugh. Any cowboy will feel right at home saddling up to the bar for a nice, cold beer and a friendly San Saba "hello". Places like this are what make small town living the stuff of legends.
San Saba Award Winning Wineries
Wedding Oak Winery
There's no shortage of good wine stops here in San Saba. Our little town has become a destination for wine lovers to taste the finest Texas wines around. One of the first wineries to put San Saba on the map, was Wedding Oak Winery. The name is inspired by the massive, historic 400-year-old oak tree just up the road from town. It was under the Wedding Oak Tree that many early settlers and Native Americans were wed. Wedding Oak Winery sits just across the street from Harry's Boots in downtown San Saba. If you're looking for a good place to slow down and enjoy good company, this place is ripe with wines perfect for celebrations, or just a plain-old Monday.
Old Man Scary Cellars
Just two buildings down from Wedding Oak Winery, is Old Man Scary Cellars tasting room. But don't worry, the two are not in competition. Infact Old Man Scary Cellars an incubator project of Wedding Oak Winery. The unique name and mission of this winery is inspired by family, a desire to grow something, and, of course, ghost stories. The vineyard is located on the Hisel Family Estate, where lies a sinister, abandoned farmhouse. The youngest son of the Hisel family, certain the building was haunted, dubbed it Old Man Scary. If the place is indeed haunted, the only thing scary about the vineyard, is how frighteningly good the wine is.
There are too many wonderful places in San Saba to mention in one blog. For more information about our town, and other fun things to do here,
visit the San Saba Chamber of Commerce Website.
AND, NEXT TIME YOU FIND YOURSELF IN THE HILL COUNTRY
COME ON BY AND SAY HOWDY!