A good pair of boots is a cowboy's best friend!
Whatever your flavor, cowboy boots should be an expression of who you are. Not only should they fit well and be suited for all types of weather, a truly perfect pair should give you the confidence to take on the world!
We've seen all kinds of folks walk through our shop door, searching for the boots of their dreams. The best cowboy boots in the world are right here at Harry's Boots, and we want to help you find a pair that speaks to you. So, here's a handy guide on how to pick out cowboy boots.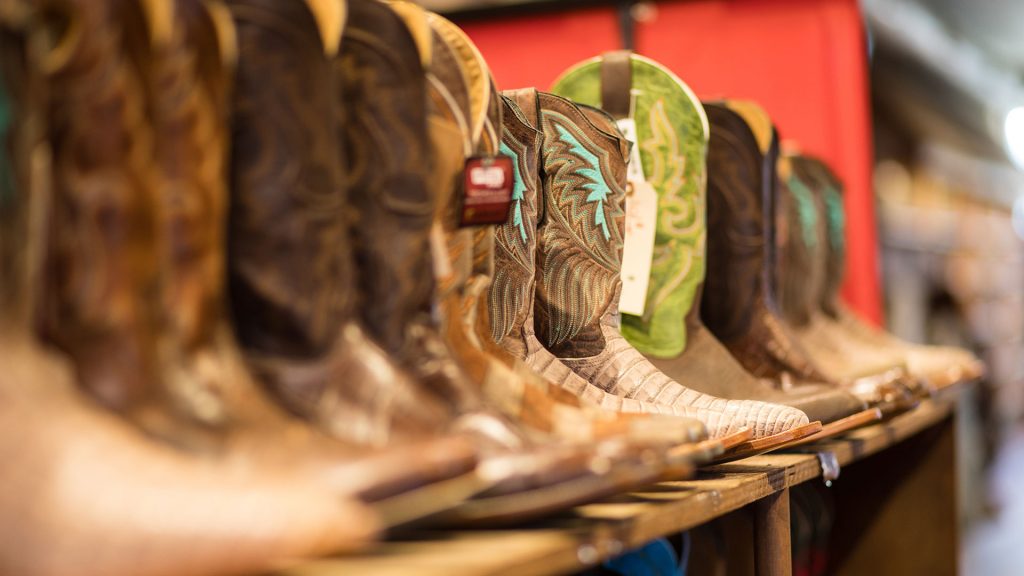 How to Buy Cowboy Boots That Are Perfect For You
When you walk into Harry's Boots, you may feel overwhelmed at first. With hundreds of boots to choose from, it can be difficult to find the perfect pair to fit your lifestyle.
If we see someone with that glazed look of indecision standing helpless in our shop, one of our Harry's Boots sales associates is sure to come to their rescue and ask a few basic questions…
Where Are You Going In Your Cowboy Boots?
The beautiful thing about cowboy boots is that there are so many varieties, made specifically for distinct purposes. For example, a classic work boot is made to look and feel much different than a riding boot.
Are you going to be wearing your boots out hunting? There are some fine quality adventure boots that are designed to take on rough terrain and even withstand snake bites!
Or, are you looking for boots that can be dressed up and worn to even the fanciest of dinner parties? Anderson Bean, Liberty Black, and Corral make fashion boots for the classiest cowgirls.
From dirt to dance halls, consider where you like to go most and choose a pair that will get you there.
When Are You Wearing Your Cowboy Boots?
Cowboy boots are extremely versatile when it comes to weather. Back when cowboy boots first came on-scene, cattle ranchers and vaqueros wore them in both extreme desert heat and freezing mountain temperatures.
You can find the perfect boots for whatever time of year you so desire. Of course, save the knee-high, heavy boots for winter.
And, if you're going to be wearing your boots in the dead of summer, you may want to pick a pair that will keep your feet looking and feeling cool. Ariat even makes a special VenTEK cooling mesh, used in the shaft of their work boots, to keep feet well ventilated. We've got more tips on how to wear cowboy boots in the summer, so you can rock the right boots even when it's hot outside.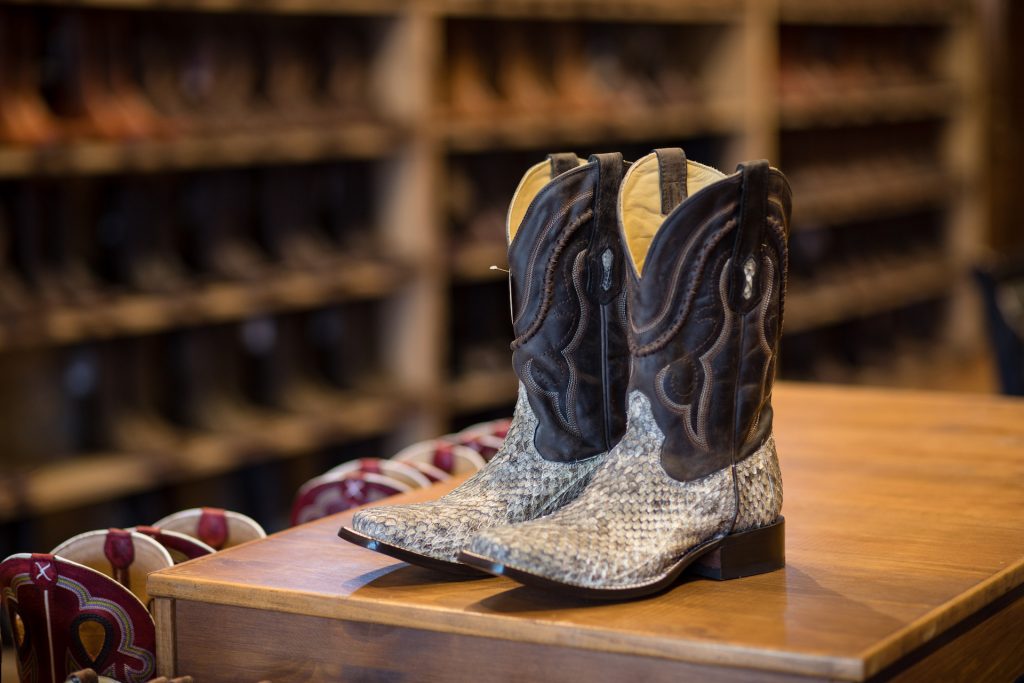 What Type of Material Is Best For You?
This is a very important question to consider when picking out a new pair of cowboy boots. It can determine how much they cost, how they feel on your feet, and how long they will last.
Cowboy boots come in all kinds of different materials. Though classic cowhide is the most common, there are literally hundreds of different types of exotic cowboy boots, like crocodile, stingray, and ostrich. Though exotic boots, like Lucchese, may cost a pretty penny, they are far more durable than synthetic materials and last far longer.
Modern advancements in boot design gives you even more options in material, than simply leather. Some boots come with mesh or lace inlays, for comfort or design. Others have rubber soles and steel toes for work and durability. Think about what kind of material is most conducive for your lifestyle.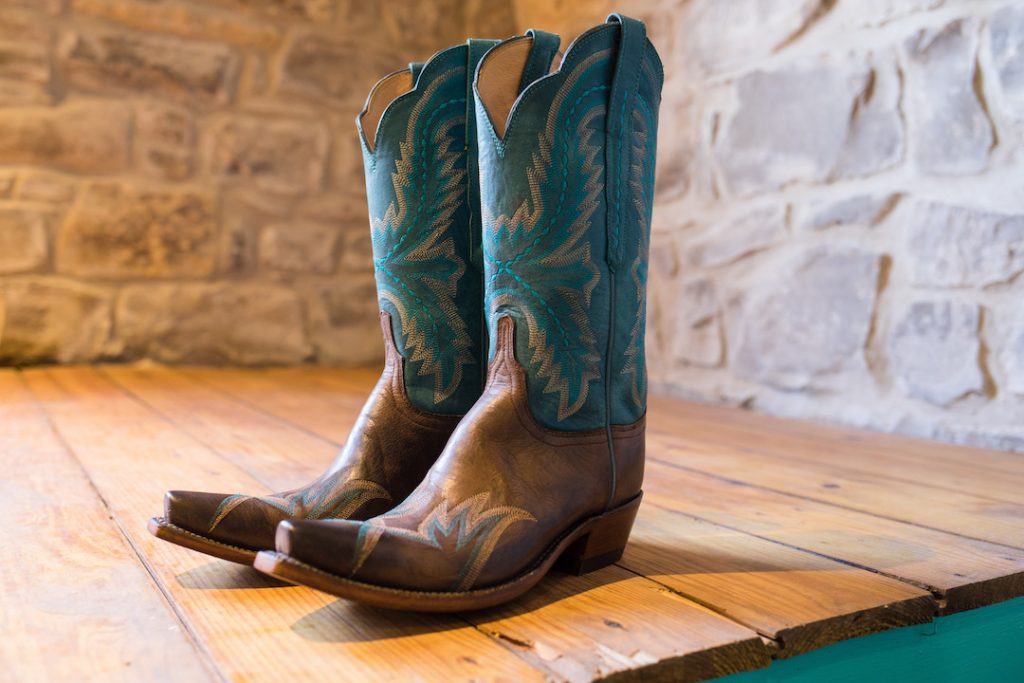 What's Your Preferred Heel, Shaft, and Toe Shape?
Throughout the evolution of the cowboy boot, different shapes have developed for different purposes, specifically when it comes to shaft height, heel and toe shape.
In regards to the shaft height, a taller boot is meant for protection. So if you're hunting, riding, or working in tall grass a high shaft is best. Lower boots are more versatile and comfortable for walking.
A riding-heel is higher and slanted in order to hook on the stirrups, but may be more difficult to walk in, where as a walking-heel is meant for walking, of course, because it is shorter and wider.  
There's even a reason for the different toe shapes of cowboy boots. But, function aside, whether you decide on a pointed toe or rounded toe is up to you, it really just depends on your preference. If you really want to go in depth about the various types of cowboy boots, check out our nifty guide here.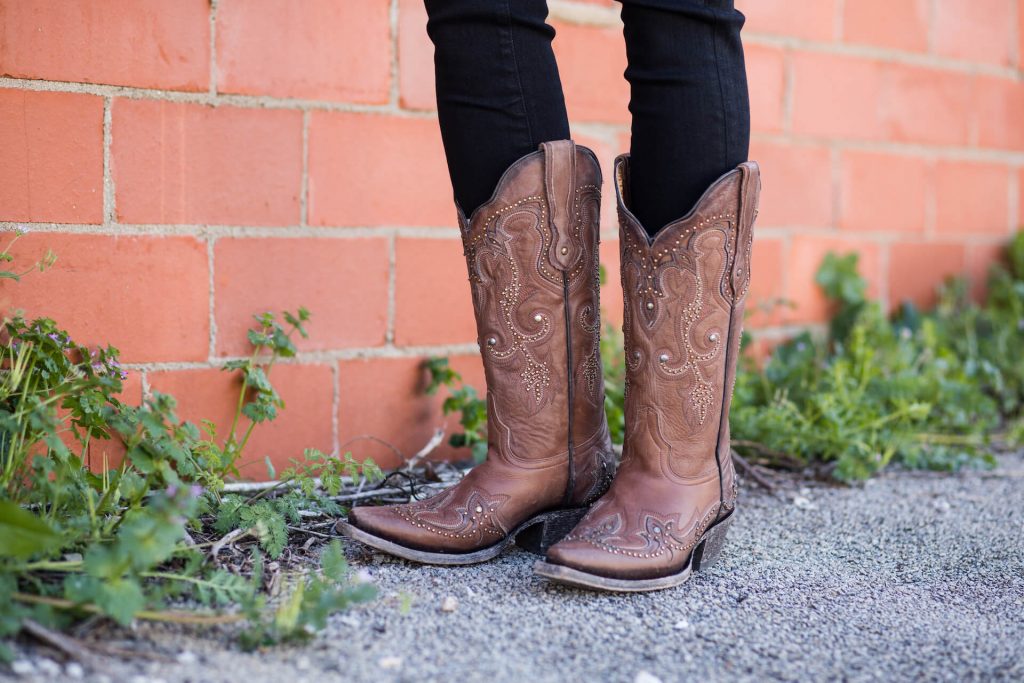 How Do You Like Your Boots to Fit?
Of course one of the most essential aspects of a perfect pair of boots is the fit. Especially if your ordering boots online, it's important to know how to measure your foot and pick the correct size. Check out the Harry's Boots guide to finding the right cowboy boot size.
Ill fitting boots can make your feet miserable. They can cause blisters and blunders on the dance floor. Make sure your cowboy boots fit so well, you won't want to take 'em off!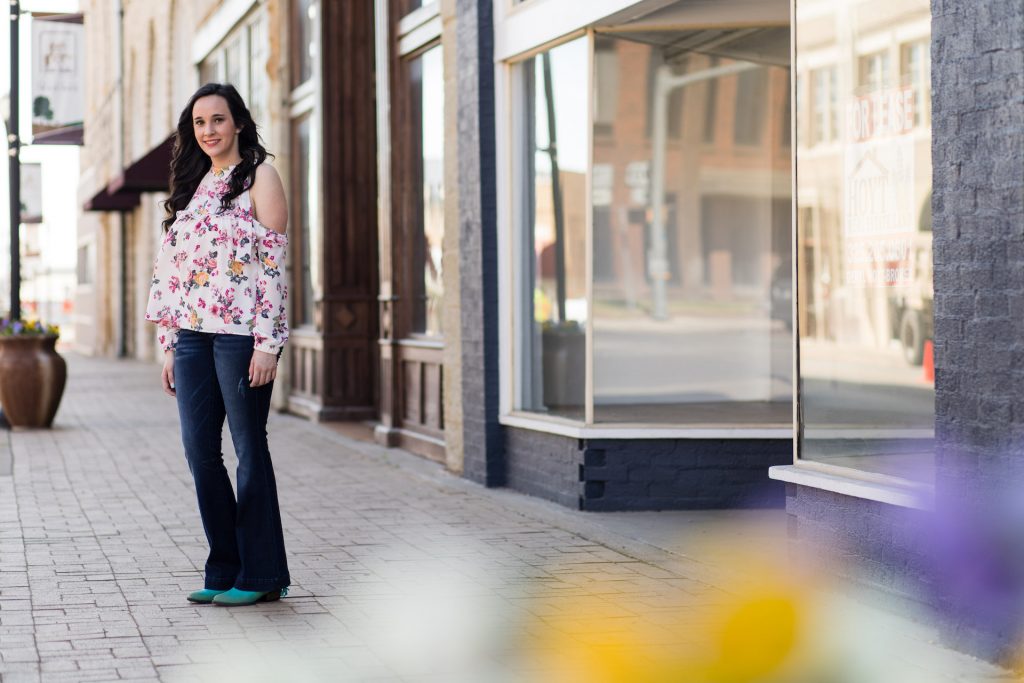 Finally, What Do You Want Your Boots To Say About You?
Even the best fitting, most lavish cowboy boots are useless if you don't personally love them. Cowboy boots are built to function and last. But, they are also an extension of your western heart.
Express yourself with every step you take in a pair of cowboy boots that truly match your  personality. Are you a classic, brown leather boot? Are you a daring, colorful fashion boot? Or, are you a one-of-a-kind exotic boot?
At Harry's Boots we have just the boot you're looking for. It's a pair of cowboy boots, that when you put them on, you feel even more like the true you!